About Us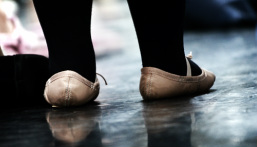 MISSION STATEMENT
It is the mission of Centre Stage Dance Academy to provide professional levels of dance to students of all ages. Students are given the chance to learn various styles and experience all areas of dance in a positive learning environment. In addition, students are encouraged to explore their creativity and enthusiasm for dance and performance.

COMPANY HISTORY


In the Fall of 2001, while choreographing a holiday production, CSDA Artistic Director and Owner Alison Hooper felt that her career was at a turning point. She had always wanted to open a dance studio, and was familiar with Monrovia and felt that the community would greatly benefit from a dance studio. The process to open the door to Centre Stage Dance Academy immediately followed and in March 2002, CSDA opened the doors to their first studio. A small 1000 square foot building with 22 students quickly turned into a move to a larger 4500 square foot building and students overflowing out the doors.

Centre Stage has been proud to offer their community a unique artistic experience. With emphasis being placed on proper technique and healthy lifestyle, an overall well educated dancer emerges from Centre Stage Dance Academy. Alison has carefully selected a well-rounded staff of professionals working in the business. Parents are always pleased with the personal attention given to the needs of each student when it comes to class placement. CSDA prides itself on continuing to be innovative and fresh in its approach to dance as well as the arts as a whole. CSDA has truly evolved with the times and challenges its students and teachers to keep an open mind as part of the overall philosophy. We strive to make art exciting and different by constantly challenging both the body and the mind of every student.

Our students are also able to participate in a variety of unique performing experiences each year, specifically in it's annual recital held at the Haugh Performing Arts Center at Citrus College. In addition many CSDA students have the chance to participate in main stage Broadway productions trough their affiliation with Centre Stage Inc., a non-profit children's musical theatre company. In the 9 years that CSDA has been involved, productions have gone from 30 kids to 130 kids starring in these shows at sold out venues. Most recently CSDA entered into the world of competitive dance. In their first year, the CSDA Competition Team was honored with 2 Grand National Championship Titles.

In addition to weekly classes, CSDA students are given opportunities to take master classes throughout their training as well. Such classes have featured the talents of Shoshana Bean (Broadway star in WICKED), Jerald Vincent (Broadway Star in THE PRODUCERS), DJ Gray (Broadway assistant choreographer of Xanadu), Shelly Nichols (DISNEY CHOREOGRAPHER), and more.

Alison and her staff continue to expand their horizons bringing their choreographic talents to other venues such as Center Stage Fontana, CCPA, Candlelight Pavilion, Glendale Centre Theatre, And the Victory Theatre in Burbank. With the vision of Alison and her amazing staff, CSDA will always have a hand on the pulse of the future of dance and musical theatre.

---